Web Design | Search Engine Optimization | Leading Search Engine Marketing | Facebook Marketing | Graphic Design


Facebook provides you with a ready-made customer database – and it's huge: more than 500 million active users.
These people tell you what they are interested in – it's the perfect opportunity to match their interest with your products.

We can place your advert with highly targeted demographics such as

AGE, GENDER, INTEREST, BIRTHDAYS, SPECIAL OCCAISIONS, LOCATION, EDUCATION, WORKPLACES AND GENERAL FACEBOOK PROFILE INFORMATION

They are always looking for the next best thing to buy: 50% of active Facebook users log in on any given day and people spend over 500 billion minutes per month on Facebook
Targeting can be very focused to your exact audience right at the very moment they are logged in and could benefit from your products or services.
We have a large team of Facebook experts whose sole purpose is to improve your ROI and get you enquires with reduced cost compared to advertisers direct with Facebook.
Our media and creative teams work with pioneering software platforms that we have mastered to enable us to deliver what we promise and show you results with a statistical report.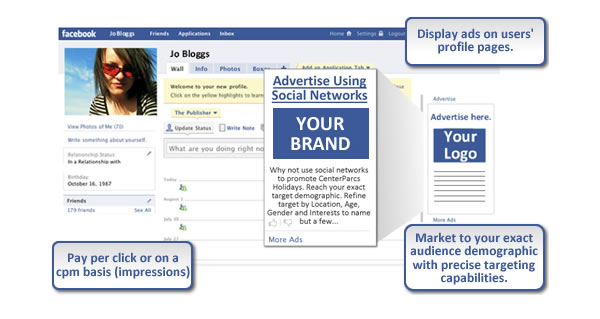 Demographically target your customers by:

Location,

        
Facebook enables advertisers to target by country, County, city, and metropolitan areas.
Ask customer what area they would like to target.

Age,

                
Age is a standard demographic factor.
Ask the customer if the customer targets a specific age group

Birthday,  

      
Clients can target by Birthday, such as card makers.

Sex,  

           
Gender is another typical targeting filter for Facebook.

Education, 

   
You can target based on their level of education,
This is most effective for targeting ads based on the schools that people went to.
Want to announce a reunion for the Oldham College class of 1996?
This is a great way to promote it
Workplaces,
This is another great targeting filter. Often times you will know the companies that your target market works at.
If you are looking to get new clients or looking to spread awareness within specific organizations, this filter can be priceless

Relationship, 

  
Want to target people that are about to get married? This is a great tool for that. If you are a bar or club, you most likely want to go after those people that are single.
While this filter can be useful, you also need to keep in mind that selecting any of these settings will remove all users that haven't selected a relationship status in their profile
Interested In,  
This factor is useful if a user's sexual preferences are relevant to whatever you are advertising.

Languages      

 
If your target-market speaks another language, you can tailor your add to meet them needs, by displaying your add in their language
To get on facebook in just 48 working hours and advertise to your exact audience please call our specialist team who can advise you on what we recommend for you and discuss monthly budgets with no fixed term contracts and great flexible packages then CALL US TODAY ON 0161 814 9458
If you wish to talk to us about any of the above please call 0161 814 9458
> Please contact us if you are interested in any of our services.